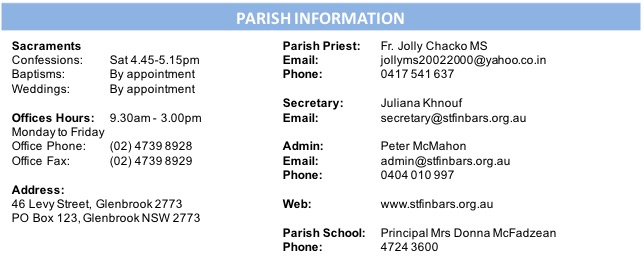 Altar Servers needed for Mass

Father Jolly would like to invite any child who has made their Sacrament of Communion to be an altar server at Mass on the weekend. If you child if interested please see Father Jolly for more information.

St Columba's Orientation Day

St Columba's Year 7, 2018 Orientation Day will be held on Friday 10th November, 2017.

St Finbar's Playgroup/Parents and Carers Morning Tea
9:15-11:30 Wednesdays St Finbar's Parish Hall, Levy St
All welcome for a play and cup of tea/coffee. Meet local families in a relaxed and warm Environment. Come for just an hour or stay longer and bring a piece of fruit for a shared morning tea. Gold coin donation.

Contact Gabrielle Lynch for any enquiries 0481 150 022